Hooray, he's here!
Luke Anthony has arrived! He was born Tuesday, November 14th at 1:10am, weighing 7lbs 15oz. Congratulations
Ray
&
Missy!
Can't wait to see you guys in a month!
An album I've been obsessed with lately.
Sufjan Stevens -
Illinois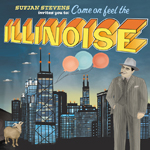 I don't know what it is about this group, but I'm addicted. Can't wait to get some of his other cd's - especially the Michigan one. Check it out, word?